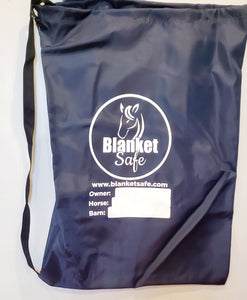 Laundry baskets and regular laundry bag, just are not equipped to handle horse sized laundry!! (I really don't need to explain that do you, do I?)

Plus, no one likes the look of a pile of dirty horse laundry in the middle of the barn. And, absolutely NO ONE want to pick up that dirty horse laundry either!
This Blanket Safe Horse Sized Laundry Bag is perfect for:
Packing up your dirty horse blankets and carrying them to the local laundromat.
Taking them to your local horse blanket laundry service
Putting in the barn to collect all the dirty laundry (you know that pile on the tack room floor of dirty saddle pads, blankets, coolers, wraps, makes a perfect home for mice, right?!)
Keeping your things separate from that of your barn mates. 
Use it for clean things too! A little extra space never hurts, since we all over pack for horse shows right?! 
Putting in your trailer to collect all the dirty show laundry, making it easy to determine what's clean, what's not, and haul right off to the laundry!
Showing with friends? What is worse than mixing up all the dirty laundry to then have to sort it out after it has festered in the summer heat?
These incredible, huge, and durable bags are eco friendly, and made with everything you need. 
You have a large spot to write your name, your horse's name, and your barn name right there...front and center! No more confusion!
You get a drawstring cinch at the top of the bag to close it, AND a super heavy duty carrying strap to tote those blankets, saddle pads, your clothes, your barn friends...whatever around too. Never walk in with an arm full of dirty blankets again!
And did I mention, they are huge. 
Details:
30"W×40"L
Navy Blue
Tear Resistant
Made from Heavy-Weight Polyester
40lb weight max
What people are saying?
"I only ordered one bag, I'm about to go order 2 more...this bag is incredible!"
"I received one as a gift from you, and now I'm ordering one for every girl in the barn!!"
"I just purchased one for the tackroom, one for the trailer, and one to secretly tote dirty blankets to the laundromat"