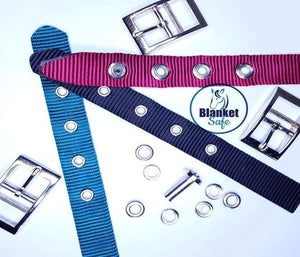 Front Close Webbing
Isn't it frustrating when we get horse blankets in for washing and the Front Closure webbing has been pulled, tugged, destroyed, and now RUINED?! Well what to do now?
To repair these front closures can take time…but what if it doesn't have to? We offer heavy duty front closures in a variety of colors, and all hand made….so you don't have to. Made with 4 holes, all with grommets applied, webbing is double thickness. Made in common colors, however if you need a special color, please contact me!
*Buckles NOT included. But if you need to purchase check here!
**All Pieces are made to order! Because they are individually hand made, there may be variations from the picture** If you are looking for some before and afters of front closures check out Laura's Blanket Repair