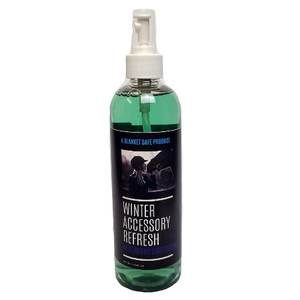 Blanket Safe Winter Accessory Refresh is the perfect product for refreshing your horse and pet wear between washes, especially during the winter season. This Deodorizing Anti-Static Spray is a Blanket Safe one of a kind, available in a 16oz size. **The blue colorant has been removed from this product. Natural coloring will remain for this fan favorite**

This amazing addition, has a delicious Blueberry Cheesecake scent, that helps to refresh your coolers, blankets, saddle pads between washes and helps to remove static caused by the dry winter weather! 
Just Spray directly onto your horse and pet wear, to refresh, kill static, and go! 
Blanket Safe Deluxe Products are exclusive to Blanketsafe.com. All products in this line are 16oz sizes.