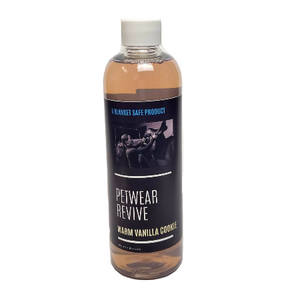 Blanket Safe Petwear Revive is our Deluxe Laundry Soap, featuring the warm vanilla scent of a sugar cookie! Our Warm Vanilla Cookie wash, is similar to our other popular washes, leaving only a light scent behind. 16oz Bottle, perfect for on the go washing!
Pack a punch without the harsh, potentially skin irritating chemicals that can ruin waterproofing, deteriorate fabric, or harm your pet's delicate skin!
Our washes as usual are safe for all washable laundry. They are detergent free, safe for HE machines, are low sudsing, and residue free. Our soaps are safe for sensitive skin, and animals of all kinds. 

Blanket Safe Washes are Safe for the waterproofing of a horse blanket, and the toy of a dog. Wash on everything from magnetic therapy blankets, to dog beds, dog toys, saddle pads, halters, washable girths, coolers, fly sheets, horse boots or wraps, and SO MUCH MORE!