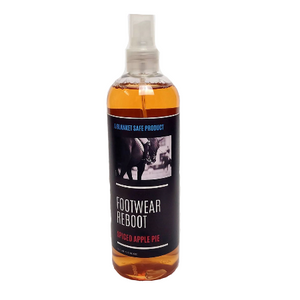 Blanket Safe Footwear Reboot is perfect for your boots or your horses! This Blanket Safe Deluxe Dessert features the Spiced Apple Pie, perfect for winter days...especially ones with an odor! This 16oz Bottle is the perfect pack and go size!

This was an instagram follower created product! 

Simply agitate the bottle, the spray liberally into your boots, or onto the inside of your horse boots and let dry. This Spiced Apple Pie Scent is perfect for anything needing a little reboot in the odor department! Let the desserts of the season spice up your life, and your's or your horse's stinky boots!
Blanket Safe Deluxe Products are Exclusive to Blanketsafe.com.