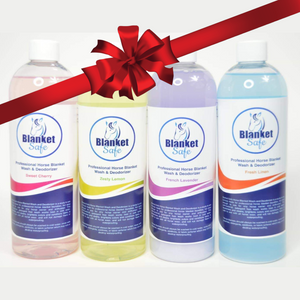 Happy Holidays from Blanket Safe to You! 
Our 2022 Holiday Bundle comes the products that originally brought us all together. We are excited to offer you, in one large bundle, the Best of Blanket Safe. This year your Holiday Bundle comes with:
(1) 32oz Bottle of Fresh Linen
(1) 32oz Bottle of French Lavender
(1) 32oz Bottle of Sweet Cherry
(1) 32oz Bottle of Zesty Lemon
OOHH and I almost forgot...as usual,
FREE SHIPPING within the Continental USA!
Stock up and Save! Blanket Safe has no shelf life, just give a little shake and you're good to go! Remember, Blanket Safe is not just for your turnouts. Our washes can be used to wash all of your washable pet items: dog beds, saddle pads, wraps, halters...you name it.
Our washes are not stain removers, as we don't add those potential skin-irritating chemicals to our soaps, and when used as instructed our soaps are residue free. **That means limiting all skin-irritating factors, including no lingering scents. Our product scents are for your enjoyment, and will not stay around after the wash (trust me, we have had no complaints from your horses or dogs about missing the scents!) 
Again, from all of your friends here at Blanket Safe, we want to wish you and your animals a warm, happy, and SAFE Holiday Season. Thank you for your constant support and your friendships throughout the years.  Much Love,