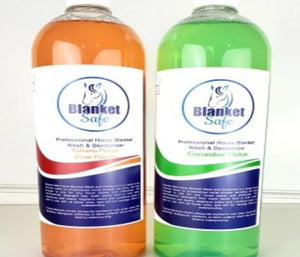 Equestrians and pet lovers are LOVING our regular washes and regular scents. But in 2020, we wanted to bring some surprises! We will be offering a Limited Amount of different Limited Scents throughout the remainder of 2020!

Our First (2) Limited Release Scents Available: Summer 2020
Bahama Mama (Fruit Punch) 
Cucumber Melon
Have you read yet about what makes Blanket Safe different? If not, Read Here
Unlike so many others, our washes DO NOT NEED WARM/HOT WATER for effective in cleaning, they have DEODORIZERS built in (no need for another product), they are DETERGENT FREE, they are MADE FOR HORSE BLANKETS…not tents, shoes, other outer wear (since we know tents don't worn on the back of a horse…why would a tent wash work for horse blankets?)
Ultimately as a horse laundry owner, and horse owner, I have find that horse blankets are not being cared for as they should be, partially because there is no easily accessible product to help appropriately care for your or your clients horse wear. This includes, but never limited to: saddle pads, girths, turn out blankets, fly sheets, stable blankets, wraps, and hoods. Now there is a safe product, and we have companies that are actually voiding warranties if the horse or pet item is not washed in Blanket Safe.
For a review:
Blanket Safe Washes are SPECIFICALLY made for Horse Wear and Pet Wear

Including but not limited to- Saddle Pads, Wraps, Blankets, Turnouts, Fly Sheets, Pet Toys, Lead ropes, Over-reach boots….anything washable!

Our Washes are DESIGNED with Horse blanket care Labels in mind.
They are DETERGENT FREE
All of our Washes are Low Sudsing and Residue Free, and Safe for your HE machine
Of course we have a Full specialty line for ANTI-STATIC and ANTI-VIRAL Properties
Fleece and Wool washes are perfect for any wool products that can be washed by hand or gently in a machine.
Our Washes EXCEL in cold water
Blanket Safe Washes help to MAINTAIN and restore color
All Washes are safe for WATERPROOFING
None of the washes contain additives, bleaches, softeners, or harsh chemicals
We are 100% Sourcing, Bottling and Shipping from the USA
Our Products are available as Retail and Wholesale, we also offer private label!
Custom Scents available-Herbal, Mountain Fresh, Apple, Melon, Orange. (To order Custom Scents you must order at least 12 32oz bottles, or 5 1gal Concentrates, wholesale available please contact me)
32oz will wash 4-8 Loads depending on soiling and load size. 2-8oz per load, depending on washer size, size of blanket(s)/items, and soiling. Adjust based on your needs.
1 Gal Concentrate: Mix 1 part Wash with 3 parts Water
Tough on all those farm stains, yet safe for your animal's skin
animal safe
cold water wash
kind to fabrics
After another day of mucking out the stable and stalls and grooming the horse who holds your heart, you deserve a break when it comes to cleaning his blanket or fly sheet. And he deserves a blanket wash that treats his skin and hair with gentle care.

Too often blankets get dirty--and stay dirty--because cleaning is too complicated. As horse owners, we wanted a product that would easily clean the months of dirt, bacteria and odor accumulated on our horse's blankets and fly sheets, and that wouldn't hurt either our animals, or the blankets.
Made for animal wear, not camping gear
Unlike those "all purpose" detergents with harmful chemicals that strip blankets of waterproofing or trigger allergies in animals or itching on horses, Blanket Safe washes and deodorizers are residue free and irritant free, which means your blankets and pet wear come out of the wash not only looking like new, but 100% safe for both children and animals.

Have you read yet about what makes Blanket Safe different? If not, Read Here.